A Step-by-Step Guide if Your Personal Injury Claim Is Denied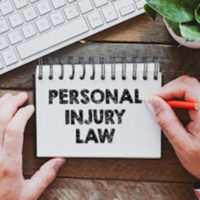 Imagine this: You have been in an accident and filed a personal injury claim only to receive a denial letter in response. Receiving a denial letter can be disheartening, but it does not mean you are out of options. There are a few important steps you can take if your personal injury claim is denied.
In this step-by-step guide, we will walk you through the process of appealing the denial of a personal injury claim. Our lawyer at Pursley Law can assist you at every step of the process to ensure you get the compensation you deserve. Reach out to our Carlsbad personal injury lawyer to get personalized guidance from our lawyer.
Common Reasons for Personal Injury Claim Denials
When filing a claim for compensation, you need to understand the common reasons why personal injury claims are denied:
Lack of evidence or documentation
Pre-existing conditions
Failure to seek medical treatment in a timely manner
Insurance policy exclusions
Comparative negligence
California is a pure comparative negligence state (Cal. Civ. Code § 1431.2), which means each party is entitled to compensation. However, their recoverable damages will be reduced by their respective share of fault.
Steps to Take if Your Personal Injury Claim Is Denied
If your personal injury claim is denied, follow this five-step guide to fight for the compensation you need:
1. Read the Denial Letter to Know Why Your Claim Was Denied
The first step in addressing a denied claim is to read your denial letter carefully. This letter will provide you with information about why your claim was denied, and what evidence you may need to submit to appeal the decision. Pay attention to the reasons given, and take notes on what steps you need to take to address them.
2. Review Your Insurance Policy
Your insurance policy will outline what types of injuries and damages are covered, and what exclusions may apply. Carefully review your policy to ensure that it covers the specific damages you are claiming and that you have met the necessary requirements for filing a claim. You may need to speak with your insurance company or an attorney to fully understand your policy and options.
3. Contact a Lawyer
If your personal injury claim has been denied, it may be time to speak with an experienced personal injury attorney. They can provide you with advice on how to proceed and may be able to assist you with filing an appeal or lawsuit. Personal injury lawyers work on a contingency basis, meaning that they only get paid if you win your case. This means that you can get legal help without having to pay upfront fees.
4. Dispute the Claim in Writing
If you think that your claim was wrongly denied, you can dispute the claim in writing. Write a letter outlining the reasons why you believe your claim should be reconsidered, and include any new evidence or documents that support your claim. Be sure to keep a copy of your letter and any attachments for your records.
5. Consider Filing a Lawsuit
If you have exhausted all other options, you may need to consider filing a personal injury lawsuit. This is a serious step, and should only be taken after careful consideration and discussion with your lawyer. In general, you only have a limited amount of time to file a lawsuit, so it is important to act quickly if this is the route you wish to pursue.
Get Guidance from a Lawyer
If your personal injury claim has been denied, it can be difficult to know what to do next. However, there are several steps you can take to address the denial and potentially get the compensation you deserve. Our lawyer at Pursley Law can help you navigate the legal process if your claim was denied. Call (760) 678-1884 to receive a case evaluation.
Source:
leginfo.legislature.ca.gov/faces/codes_displaySection.xhtml?lawCode=CIV&sectionNum=1431.2