CA Schools Struggle with Bus Driver Shortages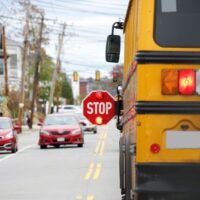 A combination of a changing workforce, licensing issues, pay and scheduling obstacles, and student behavior issues has created an "acute" shortage of school bus drivers, according to one expert.
"We used to be a majority female workforce. I'd say the 25- to 50-age band. Then we also had a group of retirees that were using this as kind of their retirement job to keep them busy getting out of work," Don DeVivo, past chair of the American Bus Association, said.
Now, the driver workforce is moving to young minority males, according to DeVivo, which brings another key issue into play: commercial driver's license (CDL) regulations.
The effects are widespread. One school superintendent posted a video last week on social media after the first day of class ended in a "transportation disaster," with some of the district's 96,000 students not making it home until 10 p.m.
Bus Driver Duty of Care
The bus driver shortage has forced many California schools to rely on new drivers or part-time substitutes. These individuals don't have as much experience and dedication as full-time, veteran drivers. They also may have probationary job status, perhaps because of a poor driving record or a licensing issue.
Additionally, bus drivers have tough jobs. They must navigate very large and heavy vehicles along narrow streets that weren't designed for such vehicles. In addition to driving safely, they must also stick to strict time schedules and monitor unruly students.
Nevertheless, school bus drivers have the same duty of care as truck drivers, Uber drivers, and all other commercial operators. These drivers have a duty of utmost care.
Noncommercial drivers who drive 5mph over the speed limit probably don't violate their duty of care. Commercial drivers, especially if they're driving a large vehicle that could tip over, have a much lower margin of error.
The higher duty of care makes it easier for a Carlsbad bus accident lawyer to prove negligence, or a lack of care, in these cases. However, as outlined below, there's a big difference between easier and easy.
The compensation in a school bus wreck claim usually includes money for economic losses, such as medical bills, and noneconomic losses, such as pain and suffering.
Liability Issues
The aforementioned tip-over accidents are among the most common kinds of school bus crashes. The school bus driver's negligence or another driver's negligence could cause such a wreck. Clearly, the victims of these wrecks, which were student passengers, weren't at fault.
Usually in these situations, an Oceanside personal injury lawyer doesn't care which driver caused the wreck, as long as the victim didn't cause the wreck. Generally, if Driver A wants to blame Diver B, then Diver A must file a motion in court. The two drivers then fight it out. The victim receives the same amount of compensation, whether Driver A or Driver B writes the check.
School bus accidents are different, mostly because of the sovereign immunity law and the respondeat superior doctrine.
Sovereign immunity shields school districts from liability lawsuits in some cases. This law usually applies if another driver substantially caused the wreck. This law doesn't apply if a private contractor owned and operated the bus on behalf of a school district.
According to the respondeat superior rule, employers are vicariously liable for damages if their employees are negligent during the course and scope of their employment. School bus crashes often seriously injure multiple students. A deep-pocketed government agency is better able to pay fair compensation than an individual driver in these cases.
Rely on a Dedicated San Diego County Lawyer
Injury victims are entitled to substantial compensation. For a free consultation with an experienced personal injury lawyer in Oceanside, contact the Pursley Law Firm. Virtual, home, after hours, and hospital visits are available.