What to Expect in a Burn Injury Case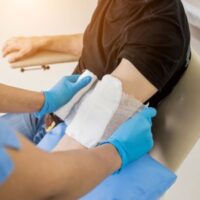 Among other things, burn injury victims can expect high medical bills in these cases. If burns cover more than 50 percent of the body, the average burn injury medical bill is over $750,000. Semi-truck wrecks often cause such catastrophic injuries. These vehicles carry hundreds of gallons of diesel fuel, which burns at a different temperature from ordinary gasoline. Most families have little or no savings. They cannot possibly afford to pay such an expense out of pocket.
A Carlsbad burn injury lawyer helps in the short term as well as the long term. Initially, attorneys connect victims with top-notch doctors who know how to effectively treat these injuries and, in most cases, charge nothing upfront for their professional services. Medical bills come due eventually. When that happens, an attorney obtains compensation not only for medical bills, but also for other economic damages, such as lost wages, and noneconomic damages, such as pain and suffering.
Pre-Suit Activities
In a few cases, critical issues like liability (legal responsibility for injury) and damages (mostly medical bills) are crystal clear. In these situations, California law usually requires insurance companies to settle the claim within about thirty days.
However, liability questions are common in these cases. Several defenses, like comparative fault, could apply in these matters. Even if an emergency responder or other law enforcement investigator concluded that the tortfeasor (negligent party) was at fault, the judge could still reduce the victim's compensation, sometimes to zero.
Damage questions could arise as well. Insurance companies often partner with doctors who claim that a less invasive, and therefore less expensive, treatment plan was available. In other words, they claim the victim's injury and medical bill claims are inflated.
The arguments often aren't strong enough to hold up in court. But they are strong enough to delay the settlement process and force a San Marcos personal injury attorney to file legal paperwork.
The Litigation Process
Especially in California, litigation is usually a long, frustrating, and necessary component of a personal injury settlement.
Pretrial proceedings, usually pretrial motions, enable attorneys to test their claims and defenses in front of the judge. A jury could easily rule differently, but the judge's decisions usually help shape a claim's settlement value.
The settlement value usually includes the economic losses and about three times that amount for noneconomic losses. Then, as the parties negotiate and their claims and defenses crystalize, the settlement value could go up or down.
Discovery, an information exchange process, also affects the settlement value. The defendant must hand over evidence that it was able to conceal earlier. So, if a case settles before discovery, the best evidence, and therefore maximum compensation, might be unavailable.
Resolving the Case
The litigation process usually ends with mediation. A court-appointed mediator, who's usually an unaffiliated San Marcos personal injury lawyer, supervises negotiations and ensures that both parties negotiate in good faith.
Parties negotiate in good faith when they honestly want to settle the matter and make compromises to achieve that settlement. Parties negotiate in bad faith when they go through the motions and make take-it-or-leave-it settlement offers.
Largely because of the good faith negotiation duty, mediation in civil claims has over a 90 percent success rate in California.
Count On a Diligent San Diego County Lawyer
Injury victims are entitled to substantial compensation. For a free consultation with an experienced personal injury lawyer in San Marcos, contact the Pursley Law Firm. Virtual, home, after hours, and hospital visits are available.