What Causes Electric Scooter Accidents?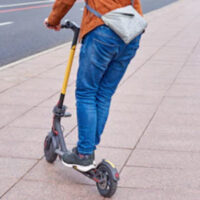 When electric scooters hit the streets around 2015, many people embraced these vehicles that were faster than bicycles and easier to operate than motorcycles. In fact, riders don't need licenses to operate electric scooters. As a result, e-scooter injuries increased more than 200 percent between 2014 and 2022. These injuries mostly include collisions with other vehicles or pedestrians.
In both cases, the company that owned the electric scooter might be liable for damages. To obtain these damages, a Carlsbad personal injury lawyer must usually take on a large, out-of-state holding company that has vast financial resources. So, the case is complex and difficult. However, the potential payoff is large. In addition to compensatory damages, for economic and noneconomic losses, many juries award substantial punitive damages in these cases.
Operator Impairment
Many electric scooter companies touted their product as a safe alternative to driving drunk. So, it's not surprising that alcohol is a factor in about a third of the e-scooter accidents in California.
Impaired riders are usually individually responsible for the wrecks and injuries they cause. In most cases, operating an e-scooter while impaired is a very bad personal choice.
This factor works both ways. If an e-scooter collides with an impaired motorists, that motorist is usually responsible for damages. Because of the personal choice factor, damages in these cases are often quite high.
Operator Error
The e-scooter company is often at least partially responsible for operator error-related crashes. As mentioned, these companies allow anyone with a valid credit card to ride these scooters. A Carlsbad personal injury lawyer holds companies accountable when they put profits before people.
California is a comparative fault state. Jurors may divide responsibility for an injury on a percentage basis between multiple parties.
Assume Huong, who didn't speak English very well, rented an e-scooter. He'd never ridden one before and, since the operating instructions were in English, he didn't understand them very well. If Huong lost control of his scooter and crashed, the jury might well divide responsibility between Huong's operator error and the company's failure to make proper safety rules and furnish proper safety instructions.
Defective Product
Some e-scooters are defective when they hit the streets. Others become defective later, usually because of driver overuse and poor maintenance.
Usually, manufacturers are strictly liable for the injuries their defective products cause, whether the issue was a:
Design defect, like a weak wheel mount, or a
Manufacturing defect, like a cheap imported wheel.
The unforeseeable misuse defense is the only effective defense in product liability claims. Riding an e-scooter on a rough surface, although clearly unwise, is a foreseeable misuse. Riding an e-scooter on a motocross course might be an unforeseeable misuse.
Maintenance issues are very common in this area. Most e-scooters take a lot of wear and tear. The more rentals, the more money the company makes. Furthermore, e-scooters are exposed to the harsh elements day in and day out. That exposure accelerates the wearing-down process.
Connect With a Hard-Hitting San Diego County Lawyer
Injury victims are entitled to substantial compensation. For a free consultation with an experienced personal injury lawyer in Carlsbad, contact the Pursley Law Firm. The sooner you reach out to us, the sooner we start working for you.
Source:
ncbi.nlm.nih.gov/pmc/articles/PMC8677920/