What to Know About Head-on Crashes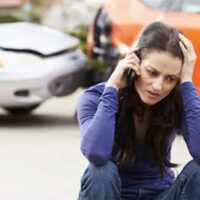 When you're out on the road, there are many ways in which car accidents can occur. One of the most dangerous types of car crashes is a head-on accident. A head-on accident occurs when the fronts of two vehicles collide. One vehicle is going in one direction, while the other vehicle is coming straight at them from the opposite direction.
Head-on accidents often happen at high speeds, so there is a lot of force involved. Cars are often totaled and occupants suffer catastrophic injuries or fatalities. These crashes account for 10% of all fatal accidents.
What Causes Head-on Crashes?
Head-on accidents occur when a vehicle is traveling in the wrong direction or veers out of its lane. Here's a look at how these crashes occur:
Distracted driving. Drivers who are distracted by something else, such as texting, reading, talking to passengers, or eating, are not paying attention to the road. They may cross into the opposite lanes and hit other vehicles head on.
Driving while intoxicated. Driving under the influence of alcohol or drugs reduces judgment, attention to the road, and reaction times. Motorists may behave unsafely and hit other vehicles.
Surprisingly, fatigue can be just as bad as drunk driving. A tired driver may close their eyes briefly, causing a loss of control.
Improper passing. A driver may cross a double yellow line to pass illegally or may pass when it's not safe to do so, causing a head-on crash.
Low visibility. Head-on crashes tend to be caused by wrong-way driving, which tends to happen at night, when there is low visibility.
Driver confusion. Drivers who are confused may enter a one-way street or go down a highway in the wrong direction, causing a head-on crash.
How to Avoid a Head-on Crash
Here are a few ways to avoid getting involved in a head-on accident:
Read the road ahead. Be aware of your surroundings and other cars. Look to the next hill or curve.
Drive to the right. Wrong-way drivers are often confused and will drive in the left lane because they think it's the slow lane. Therefore, the safest place will be in the right lane, as you will be next to a shoulder if you need an escape path.
Reduce your speed. Slow down if you see something hazardous ahead. Reducing your speed increases your control and reduces impact if you do crash.
Avoid swerving. Serving can cause loss of control. It's better to drive off the road and go onto a shoulder or ditch rather than hitting another vehicle.
Contact Us Today
Head-on crashes are not common, but when they do happen, they are often deadly. If you have been a victim, make sure you seek legal help so you get the compensation you deserve.
A Carlsbad car accident attorney from Pursley Law Firm can assist you. Let's discuss your injury and possible legal recourse options. Schedule a consultation today by filling out the online form or calling (760) 678-1884.
Source:
forbes.com/advisor/legal/auto-accident/head-on-collision/#:~:text=In%20a%20head%2Don%20collision%2C%20two%20cars%20strike%20each%20other,victims%20affected%20by%20the%20accident