What Not to Do After a Car Accident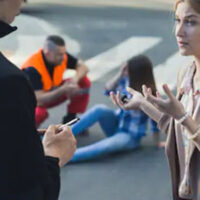 Even if you are the safest driver around, odds are that you will be involved in a car accident at least once in your life. Sometimes it's the other driver who is at fault.
When a car crash occurs, it's important that you take the proper steps. You need to know what to do, but it's also crucial that you know what you should not do. A wrong move could be foolish and even illegal.
A mistake after an accident could cost you dearly. You could be blamed for the accident and lose out on compensation. Here are some things you want to avoid doing.
Don't Leave the Accident Scene
You might have gotten into a little fender bender. No big deal, right? You can just keep going and check things out later, right? Wrong! No matter how minor the crash may seem, you always need to stop, check on the other person involved, and exchange insurance information. If the crash is serious, you also report it to law enforcement. If you fail to do so, you could be charged with a crime.
Don't Forget to Document
It's important to not only get the other driver's information, but also document the details of the crash. This means getting information about the vehicle, license plate number, location of the crash, road conditions, and weather conditions. Were there any witnesses? If so, get their names and phone numbers. Take photos of the crash site and surrounding areas. Document as much as possible.
Don't Admit Fault
You never want to admit that you were at fault for a car crash, even if you think you were. Even saying "I'm sorry" could be used against you, as it could insinuate that you feel responsible. This statement could make you liable for the accident. While you should be honest, it's best to say as little as possible following a crash.
Don't Post Anything on Social Media
People are often addicted to Facebook, Instagram, Snapchat and other forms of social media. While you may want friends and family to know about your accident, posting anything online can be risky. The information you post on social media can be used to minimize or even deny your claim. It's best to call, text, email, or meet your friends and family in person. Avoid social media during this time.
Don't Ignore the Aftermath
It's important to follow up on everything after a car accident, which means filing your insurance claim and getting legal and medical advice. If you were injured, see a doctor right away. If you have a lot of damage or the driver is threatening legal action against you, it's best to speak to a lawyer.
Contact Us Today
While it's important to know what to do after a car accident, it's also important to know what not to do. One wrong move could ruin your case and reduce your compensation. This is something you want to avoid at all costs.
A Carlsbad car accident attorney from Pursley Law Firm will represent your best interests and ensure you receive what you are entitled to receive under the law. To schedule a consultation, fill out the online form or give us a call at (760) 678-1884.
Source:
auto.howstuffworks.com/car-driving-safety/accidents-hazardous-conditions/5-things-after-car-accident.htm