Car Accidents Among Seniors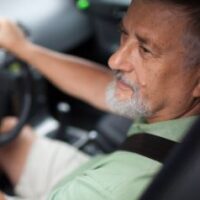 Many older people enjoy driving because it allows them to keep their independence. They can go to doctor appointments, do their grocery shopping, visit friends and family, and run other errands without being a burden on others.
However, many senior drivers are unsafe, causing serious car accidents. Drivers over the age of 70 have higher crash fatality rates per 1,000 crashes than middle-aged drivers between the ages of 35 and 54.
These accident rates are due to changes people experience as they age. Vision, physical functioning, and memory all decline as we get older. Some diseases and medications can also affect the driving abilities of senior citizens. Overall, men have a higher car accident fatality rate than women.
Signs of unsafe driving behavior include getting lost in familiar places, dents and scrapes on the car or other objects, and frequent crashes or close calls.
Licensing Requirements for Seniors 
While no states take away a driver's license solely based on their age, most have additional requirements in place in order for senior drivers to maintain their licenses. The Department of Motor Vehicles has requirements for senior drivers in California. If you are at least 70 years old when your driver's license expires, you must renew your driver's license in person. You will be required to take the written test as well as a vision test. If you do not pass, you may be given a temporary driver's license to use.
Those over the age of 55 may want to consider the Mature Driver Improvement Program. This is an eight-hour course that covers a range of topics that are of special interest to older drivers. Your insurance company may offer a discount if you complete the program.
Tips for Staying Safe 
Senior citizens can keep their driver's license and improve safety by doing the following:
Reducing driving at night. Some seniors refuse to drive at all at night. If you do decide to drive at night, choose a familiar, well-lit area.
Driving when traffic is light. Seniors should avoid driving in rush-hour traffic and other times of the day when the roads are busy.
Limiting driving to essential places. Avoid long road trips and unnecessary driving. Drive to essential places only.
Avoiding freeway driving. Freeways can be tricky, as there are multiple lanes and high speeds. Plus, it can be easy to forget where you're going and you could end up on the wrong off ramp.
Always wear a seat belt. When you're behind the wheel, never compromise safety. Wearing a seat belt can reduce the risk of injury or death.
Contact Us Today
A driver of any age can cause a car accident. However, senior drivers can be prone to accidents as they get older and physical, mental, and visual acuities decline.
In a car crash? Seek legal help from a Carlsbad car accident attorney from Pursley Law Firm.  We will advocate for your legal rights. Schedule a consultation with our office today by calling (760) 678-1884 or filling out the online form.