Dealing With Parking Lot Accidents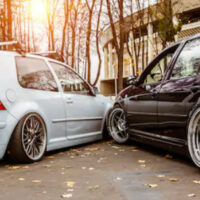 Driving can be easy in many cases. Parking your car? Not so easy. Parking lots are not always designed well. Spaces can be too small, with little room to maneuver.
This can lead to car accidents. Parking lot accidents are not typically major, but they can cause a lot of frustration. What do you do next? Here's what you need to know.
What to Do After a Parking Lot Accident 
After a crash in a parking lot, do the following:
Stay at the accident scene. Do not drive away, no matter how minor the accident may seem. If someone sees you flee the accident scene, you could be arrested for a hit and run.
Look for the car's owner. If the owner is not near the car, go into a nearby store and have customer service announce it over the loudspeaker.
Leave a note. If you cannot locate the other driver, leave a note. Jot down information such as your name, phone number and explanation of what happened. Place the note in a secure place, such as under the windshield wiper. Take a photo of the license plate number and the damage.
Gather evidence. Use your phone to take photos of the damage and surrounding area.
Call the police. If the damage is extensive, you may want to contact the police. They can document the accident and help you find the other car's owner.
Contact your insurance agent. File a claim with your insurance company. Your agent can help you with the next steps.
Avoiding Parking Lot Accidents
You can decrease your chances of getting into a parking lot accident by following these tips:
Drive slowly and cautiously. Parking lots have a lot of dangers, such as cars and pedestrians. Don't speed.
Obey the directional arrows. Make sure you are going in the right direction so you don't hit a vehicle head-on.
Don't park in a space that is too small. Don't park in a compact space if you have a huge truck or an SUV.
Stay within the lines. Just like coloring in kindergarten, try to park inside the lines of the parking spot. It's rude to take up two or more spots, especially in a busy area where parking is limited.
Be thorough when backing up. Going in reverse can be tricky in a parking lot, especially when your view is obscured. Be sure to look in all directions. Use your mirrors and backup camera as well.
Park in a spot where you can pull forward. Better yet, avoid backing up, if possible. Instead, try to find a spot where you can just pull forward.
Contact Us Today
Crowded parking lots can increase the risk of car accidents. Fender bender, door dings, and dents can all occur.
If you have been involved in a parking lot accident, contact a Carlsbad car accident attorney from Pursley Law Firm right away. The laws can be confusing, so you can benefit from our help. To schedule a consultation, call (760) 678-1884 or fill out the online form.
Source:
statefarm.com/simple-insights/auto-and-vehicles/how-to-deal-with-parking-lot-accidents